JUPITER JPC1000.
Piccolo 1000 series
From 914.00 822.00 €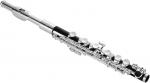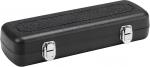 Description
♦Piccolo Jupiter JPC1000:
The silver-plated head of the Jupiter JPC1000 piccolo offers greater brilliance and projection. This hybrid piccolo feels at home in both the concert and marching bands.

ABS Resin Body allows both the advantages of great sound and durability regardless of the performance venue
Silver-Plated Nickel Silver Headjoint combines the strength of nickel silver with the rich tone quality of silver plating
Conical Bore is exceptionally responsive and offers excellent intonation across the entire instrument performance range

♦Piccolo Jupiter JPC1000E: idem JPC10000 with E split

♦Piccolo Jupiter JPC1010
The Jupiter JPC1010 features a heavy resin body and head that mimic the sound and feel of a real wood piccolo. Though designed with a sound for the stage, the resin body allows this piccolo to be played outdoors without the worry of cracks.
My order
Piccolo 1000 series JUPITER
Choose your reference