JUPITER JEP1000
Euphonium 4 valves 1000 series
From 2 593.00 2 333.00 €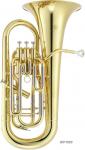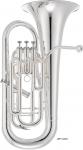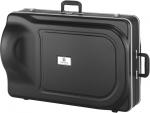 Description
The JEP1000 4-Valve Euphonium is a popular instrument among students and educators alike. It features great projection but is also easy to control making it a wonderful option for new euphonium players. It has a 14.5mm bore and an 280mm bell. Its removable valve section is made up of 4 top action valves or 3+1.

•Lacquered Brass Body is produced using state of the art technology to ensure an instrument of the most accurate scale and playability
•Silver-Plated Brass Body is made from the highest quality brass and finished with a bright silver-plate ensuring fine playability and tonal brilliance
•Removable Valve Sections allows for easier, more economical maintenance and repairs
•Stainless Steel Pistons have remarkably smooth, fast action for improved agility and playability

4 top action valves
♦JEP1000: lacquer
♦JEP1000S: silver plated

4 valves (3+1)
♦JEP1020: lacquer
♦JEP1020S: silver plated
The JEP1020 features a traditional 3+1 valve design with 3 top action valves and an angled left hand 4th valve to eliminate the use of the right hand pinky finger. This design is very comfortable to hold and play.
My order
Euphonium 4 valves 1000 series JUPITER
Choose your reference